Second Avenue subway report card
A look at the numbers on the line's first anniversary
Photos
Last year, the city's most exclusive New Year's Eve party took place in a most unlikely location: 100 feet below 72nd Street in a spotless subway station on the newly completed Second Avenue line.
Dignitaries clad in evening wear toasted with sparkling wine, snacked on locally sourced charcuterie and swayed to live music from a jazz band at the subterranean gala, brushing shoulders with MTA brass, Governor Andrew Cuomo and other elected officials (including, briefly, Mayor Bill de Blasio, with whom Cuomo would go on to feud throughout the year over responsibility for the subway system's overall decline). Revelers packed onto a train car for a maiden trip up Second Avenue to ring in 2017 and celebrate the city's first major subway expansion in 50 years. If such a glitzy affair seemed out of place on a station platform, well, as Cuomo said, "This isn't your grandfather's subway."
The following day, the public got its first chance to ride the underground rails originally proposed a century earlier. The New Year's opening attracted thousands, who made the seemingly endless escalator descent to find the cavernous new stations — bright, column-free and reminiscent of airplane hangars — a far cry from the crowded, dank platforms under Lexington Avenue a few blocks west. Public art installations on the spacious mezzanines became attractions unto themselves. Perhaps most surprising was the sight of completely clean tracks, free of debris and rats.
The new route from Yorkville to Times Square in 15 minutes was pretty nice too.
If some of the Second Avenue subway's novelty has worn off over its first year, as commuters fell into new routines and the line's initial sheen gave way to more familiar scuffs, its impact has endured.
At street level, the subway's opening marked the welcome end of a construction process that disrupted business and traffic on Second Avenue for the better part of a decade. The new stations at 72nd, 86th and 96th Streets each serve tens of thousands of Upper East Siders every day, but with improved access and convenience has come anxiety that rising rents could displace longtime residents and business owners.
The Second Avenue subway's opening was a bright spot in a tumultuous year for the MTA, and officials have already begun preliminary engineering for the project's second phase, which requires additional funding and would add three new stations extending the line north to 125th Street. The yet-to-be-funded third and fourth phases will, someday perhaps, extend the line south to its final terminus at Hanover Square in the Financial District.
"The first phase of the Second Avenue Subway has been a resounding success but New Yorkers shouldn't have to wait another century for the full line to be built," said Rep. Carolyn Maloney, who has advocated for federal funding to be allocated to the project's continuation.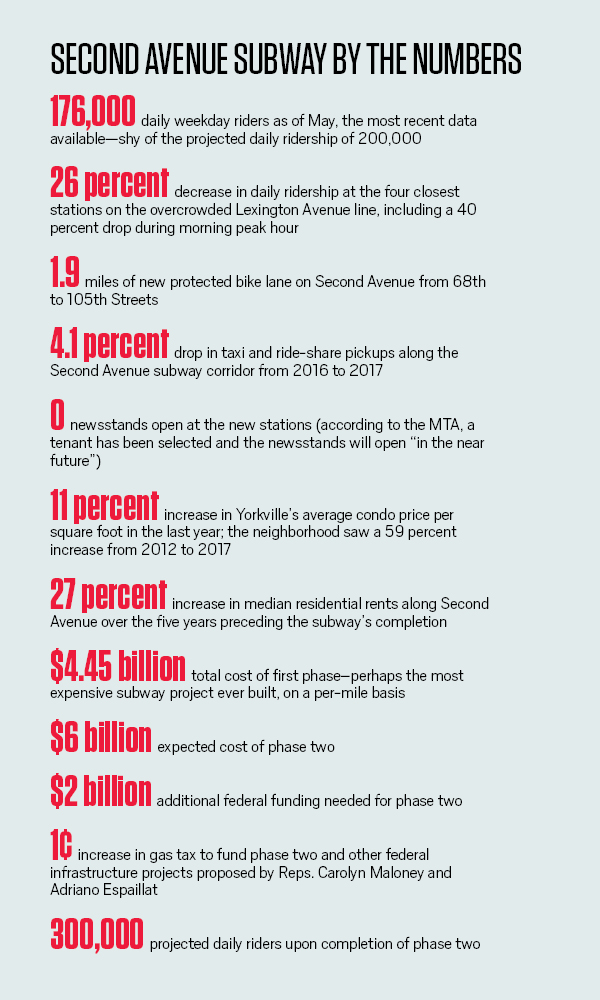 Comments
MUST READ NEWS
VIDEOS
---